We woke up bright and early last Tuesday for NYEBoy's actual birthday. The day was going to be spent at Epcot.
We rode
Spaceship Earth
as soon as we arrived. Before we did anything else, NYEBoy decided he had to have breakfast. We grabbed a quick service breakfast platter at the little place next to Soarin. The breakfast was pretty decent, no real complaints about that.
After breakfast, we grabbed Fast Passes for Soarin before heading over to
Circle of Life
. I lost it when they started playing the song Circle of Life. Tears streamed down my face before I could even stop it. The song just made me miss A that much more.
After Circle of Life, we headed down to
Living with the Land
. Since it wasn't quite time to redeem our Fast Passes, we headed over to the Nemo and friends building. We rode
The Seas with Nemo and Friends
, which was really cute. When we got off that, we went to
Turtle Talk with Crush
. Once Turtle Talk was over, it was time to redeem our Fast Passes for
Soarin
. Since it was our first "big" ride of the day, I was a bit nervous. I wasn't really sure what it was, but it was pretty fun. We were on row 3, and I am pretty sure I couldn't have done any further up than maybe Row 2! I was pretty nervous on Row 3! Lol
Once we rode Soarin, we headed over to the World Showcase to eat and walk around. The only things I knew we had to eat was a German pretzel! Once we found the pretzel ($4.50?), we each grabbed a drink and a pretzel to share and watched the water and ferry boat. It was pretty relaxing. Once we finished the pretzel we decided to ride the ferryboat from one end of the lake and back again.
While we were walking around we decided to look around the various shops. It was the Food and Wine Festival, so there were various specials native to each pavilion that you could try, and obviously I had to try their California Roll ($3.95). It was a three piece sample and was pretty good. My only complaint is that it doesn't come with a little cup to pour the soy sauce in, so it's a bit messy, but it worked out okay.
We walked around a bit more and I stopped by to pick up one of these bad boys. Although it was mostly good, I think next time we will just go with the melon and tangerine flavor (green/orange). Neither of us cared much for the red, which was strawberry and cherry combined. (WHY?)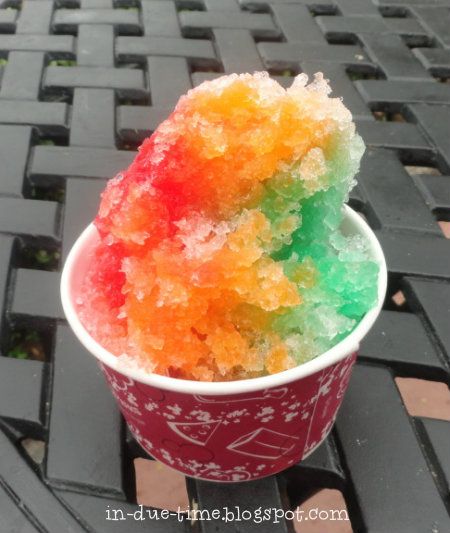 After a bit more walking around, we took the monorail over to Magic Kingdom and back again to Epcot. We had dinner reservations at Yachtsman Steakhouse for his birthday dinner, so after the monorail trip we headed back to the hotel. We were exhausted.
After a little rest, we headed over to
Yachtsman Steakhouse
. When I made these reservations, I was going based upon lots of reviews online that were very favorable. We're not ones to usually listen to reviews and such, but I was very hopeful.
But, it wasn't meant to be. First of all, three people besides myself noted NYEBoy's birthday on the dinner reservations prior to us showing up. And you know what? The restaurant didn't do one thing. Other tables got cupcakes and candles for birthdays and anniversaries, but we didn't get anything. I was very disappointed about this. We spent $170 including tip and to not even have his birthday acknowledged really pissed me off.
On top of that, we used four of dinning credits for this meal only to find out that it didn't come with an appetizer It did come with two desserts, but we would have preferred to have been able to do one appetizer and one dessert. Since it didn't come with an appetizer we decided to pay out of pocket $10 for the caesar salad to split between us. It was horrible. They literally sliced half a romaine lettuce head lengthwise, and drizzled some dressing on it. We barely at it. Totally a waste of money. We've paid $6-10 a piece for caesar salads before, so it's not like we are cheap. It just wasn't a good salad. Plus, they gave you a butter knife to use to cut up the salad. Pointless!
The entrees only came with a potato any way you wanted it: ashed, baked, fried, or scalloped. NYEBoy went with the Porterhouse and baked potato, while I went with the filet and mashed potatoes. The steaks and potatoes were just okay. For the price, I would have expected Shula's quality and we just didn't get it.
For dessert we went with the Peanut Butter and Pretzel Gianduja Cake and the Creme Brulee. The desserts were outstanding. I should have taken another creme brulee back to the hotel room! Mmm.. so good.
Another big complaint I had about the meal and all of the meals at Disney is that you can't find sweet tea ANYWHERE! Unsweet? Yes. Sweet? No. They did offer a simple syrup at this restaurant, but you had to use a ton of it to even make it slightly sweet. NYEBoy did enjoy the Pomegranate Arnold Palmer (non-alcoholic), and he's not much of a fruity tea type person at all.
After dinner, we headed back to the hotel to open presents.
That's coming next!