The medicines are finally starting to kick in after a week of pure hell. I'm still probably a day or two away from probably being able to get back into a routine, but I can tell it's not too far away.
This is one of the few times I have been really sick that I have tried almost every single suggestion thrown my way because I was desperate, folks.
Some things worked, some things did not.
If you find yourself in the midst of sinus congestion hell and looking for relief, any type of relief, try it.
Neti Pots (or the like)
These little watering pots for your nose will never not gross me out. They don't work for me because I have a deviated septum, but if you don't have a broken nose, try it out. Apparently the people love them, even if flushing out snot is as gross as it sounds.
Simply Saline
Ah, I wanted this to work so bad, but again, with a deviated septum, it really wasn't doing anything other than making my nose feel like I was spraying needles into my sinus cavity. Check out their
website
before heading off to the store, you might be able to save $1 off.
Cool Eye Mask
This has to be one of my best suggestions from a dear friend on Twitter. Take one of those gel eye masks and place it in the refrigerator (or freezer) and place it on your face. Straight from the freezer was way too cold for my face, but out of the refrigerator was just right. I liked to use a wash cloth with cool water to kind of surround it. As much as I would have loved to replace the eye mask as soon as the gel became room temp, it made my face very raw, so its probably best to just give your face a rest for awhile in between uses. However, this was hands down the best thing that helped, even if it didn't really do anything to the pressure.
Whatchu look'n at Willis?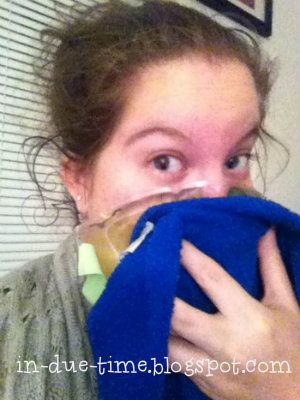 Hot/Cold Wash Cloth Compresses
This was another thing that kind of took the edge off just a tiny bit. It didn't really do anything to the actual pressure on the inside, but on the outside, it was nice to either wipe my face with a hot or cold compress. Make sure you wipe your face down with lotion in between uses to keep the skin from being too irritated.
Vicks Waterless Vaporizer
Vicks normally helps when you're not feeling very well, but I think this mucus was just too thick for the mighty Vicks. The waterless vaporizer will run you less than $15 and you don't have to deal with the water or a big vaporizer.
Throat Lozenges
I've never been a fan of cough drops, but the back of my throat was soooo raw I needed some type of relief. I can't stand Halls, but the Ricola and Burts Bees are bearable. NYEBoy swears they smell horrible, but I could barely taste them, much less smell them. The problem with cough drops is that after awhile you can find yourself dealing with the rebound effect, so you may find breaking that up with hard candies to be better. I tried Jolly Ranchers, but they were too tangy for my sore throat, but the hard peppermint candies worked wonders.
Steamy Showers (or baths)
Another popular suggestion by everyone was to take a hot steamy shower or bath. Again, not sure if it was because this mucus was super thick all up in my nasal cavity or what, but it didn't do shit for actual pressure. But, it wasn't all for nothing. It's nice to wash off your body in between fever fits.
Hot Tea (with Honey)
Ah, this actually helped a tiny bit. It only lasted a few seconds at a time, but it was nice for my throat. My only complaint is that I only had fruit flavored hot teas, and the taste after I swallowed made me want to gag. Lol I tried hot water, but that was worse. Ha.
Gargling Salt Water
I did this a few times a day. I'm not sure if it helped, but I can't imagine feeling much worse than I have this week.
Staying Hydrated & Eating
The only things I pretty much wanted to drink were ice cold water, apple juice, or coconut water. Occasionally, I would have some sprite for the carbonation, but not much. As far as eating went, hot soup was good, but I also enjoyed cereal cups for the cold milk/crunchy factor. With my taste buds being shot, it was nice to have a crunchy option. Plus, cereal cups mean no dishes. Also, with taking a lot of antibiotics and steroids, I found it good to have fresh fruit cups, bananas, and simply go-gurt on hand for quick things to eat with medicine.
Vaseline and Lotion
Vaseline in/around nose helped with making sure my nose didn't get too raw. Same thing with my face, except I used lotion (Lubriderm Intense Skin Repair) If you don't find yourself using a lot of lotion or vaseline in your day to day life, you can just pick up the travel sizes to have on hand.
Kleenex Tissue (with lotion)
I am a huge fan of having boxes of tissue with lotion on hand. I normally get Kleenex, but during the back to school frenzy, Puffs had the prettier boxes and I made the stupid decision to buy them. Wrong. Wrong. Wrong. Kleenex (with lotion!) is a lot softer on the nose than Puffs, hands down! Trust me, when you're sick, $3 a box isn't anything to fuss about.
Hand Sanitizer
Get one for your purse for when you're out and about and one for where you spend most of your time so you can wipe your hands down a few times a day.
Sick Station
Set up a sick station and don't be afraid to sleep upright. I slept upright for six nights before I was able to lay flat, but I'm probably going to end up sleeping upright again tonight because the pressure has been worse today. Just get some rest. The housework can wait.
So, there you go, tips from a sick girl. And now, I am going to go lay back in the chair and get some more sleep.