[Health update: My beta was negative yesterday. The doctor gave me four prescriptions. Thank God! Something stronger than Tylenol. Although, I did end up having a slight mini-breakdown last night as I was trying to take my meds. Pain + Exhausted = One crazy, emotional chic. The bladder test results have not come back as of today. Hopefully, we'll know more again tomorrow. I have to go back to school on Monday so I am trying to avoid being on the strong pain meds during the day and only taking them in the evenings. The pain is pretty intense at times still. I'm really not looking forward to next week without some kind of answer as to what is going on. Tomorrow marks 13 days in pain. Thanks for the continued prayers/support.]
I'm having a little dinner party this weekend. The cups/napkins/plates all have a green, purple, yellow, and pink color to them. When I ran across these flowers at the Dollar Tree, I decided I could make a few table decorations with them.
Dollar Tree:
3 - 3 packs of mini flower pots
2 - packs of glitter foam flower
1 - bag of Reindeer Moss
My Craft Stash:
White paint
Green paint
Styrofoam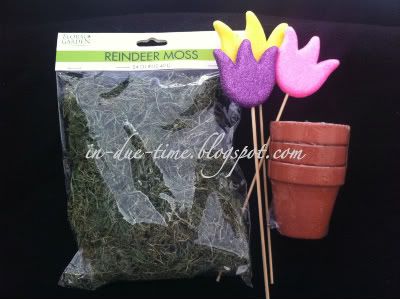 Paint the flower pots white (3 coats). I didn't paint the entire inside since it will be covered.
Paint the stems of the flowers green. I mixed a little bit of Apple Barrel 20413 and 20713 to get that color.
Place a piece of styrofoam in the inside of the flower pot, about 1/2 inch away from the rim.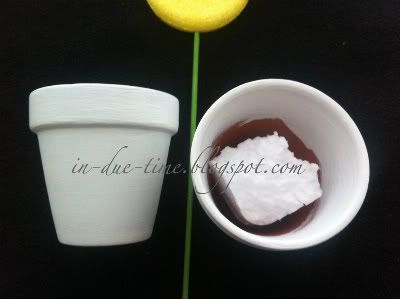 Stick the flower through the styrofoam and the bottom of the flower pot. Decide how tall you want the flower to be and clip the stem right at the bottom of the pot.
Top the pot off with some of the reindeer moss.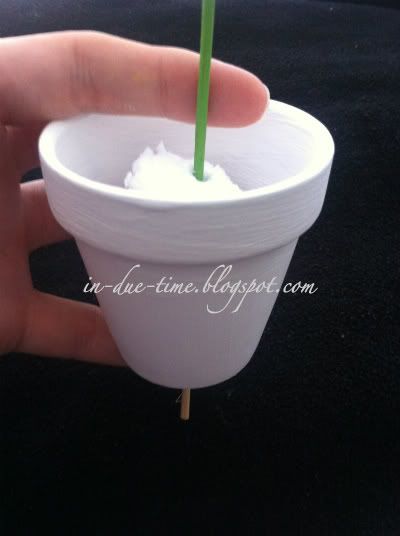 Repeat several times and pretty soon you will have your own flower garden!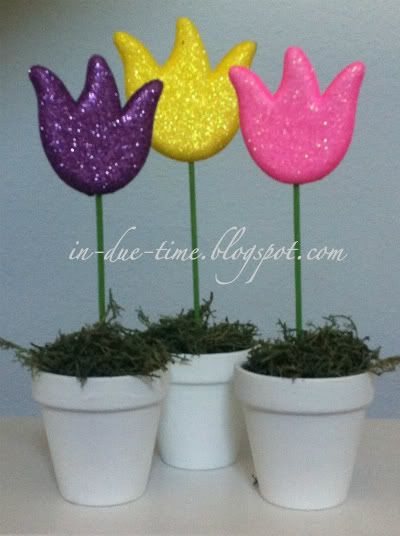 Total cost: $6 for 9 pots.
It's perfect for Easter or Spring!