This is the only big before picture I have. It's hard to see, but it's a lot of clutter on two different colored desks. The one long desk along the wall is dark and heavy. NYEBoy threw a fit when he heard I didn't want it coming to our new place, so it ended up coming. Then, I have an L shaped desk I bought for the move but it's a lighter wood color.
As much as I love my big office, it's hard to feel like its a work area with so much going on. I decided I wanted to overhaul the desk area. I loved the idea of painting the desks black, but there wasn't any real way to do that. I'm on the second floor and the desks are very heavy, plus there is no where outside to paint and dry them. Then it came to me, contact paper!
I ordered
the contact paper
from Amazon for less than $30 and it covered both desks and I still have leftovers for a few other projects.
Wash and dry all the pieces to your desk before places the contact paper.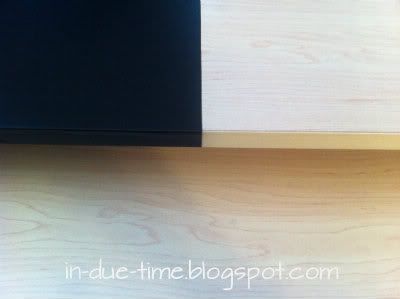 I'm going to try to get some plexiglass to cover the tops, but for now, I'm just being careful not to nick the contact paper.
I still have some organizing to do, but it's amazing how just having the same colored desk area brightens the look!
In case you missed it,
Part 1 is here
.