I am loving my Vitamix! One of my favorite things to make is frozen yogurt. I make it at least three or four times a week. One of the books that the vitamix came with had a recipe for some type of frozen yogurt, but I ended up just going by taste.
I blend one 6 oz cup of (Publix) sugar free vanilla yogurt with around one cup of a frozen fruit. You could start with 1/2 cup of frozen fruit and increase by 1/2 cup to see how much fruit flavor you prefer. I've done it with frozen mixed berries, blueberries, strawberries, pineapple, and peaches, but my favorite mixture is the vanilla yogurt with a cup of frozen (publix) cherries. You can even mix a few together. Just remember, bananas are not low amylose friendly, so stay away from them.
Its sweet and creamy, and totally hits the spot as far as ice cream is concerned.
This doesn't freeze very well, so it's a pretty much eat-it-as-soon-as-you-make it kind of treat. Also, the yogurt has to be cold and the fruit has to be frozen or it just becomes yogurt with fruit mixed in. Still yum, but not nearly as fun.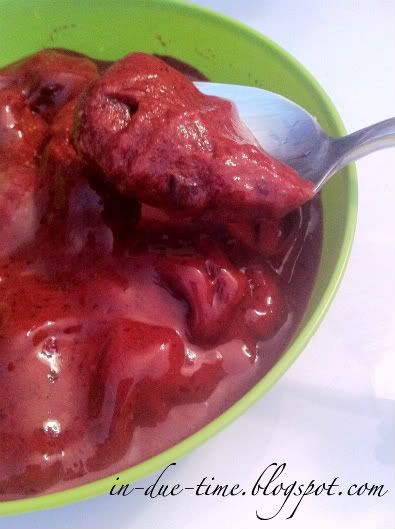 Let me know if you try it and what flavors you create!