Before football season began, I had these big plans to decorate for the football games. We love football, especially F$U. I searched the internet, craft blogs, etsy, and pinterest looking for cute things.
One of the cutest things I came across was on etsy and it was a beaded F$U wreath. I love, love, loved it, but I couldn't bring myself to spend the $50+ dollars on it, though. So, I did what every crafter does, I decided to make it.
I already had a wreath frame in my craft loot, so all I needed was ribbon and mardi gras beads. I found a seller on eBay who sold 6 dozen beads for around $15 shipped. I ordered 2 dozen black, gold, and the garnet color.
I hoped I would have the wreath finished before the season began, but apparently my package was stuck in a sorting facility for over a month. Yeah... pretty much sums up my football season experience this year. The first game I was a bit depressed about
missing A
and the second game I began miscarrying but I didn't know it at the time.
When the beads finally arrived the other day, I finally sat down to make the wreath. I probably could have used another dozen or two beads to make it fuller, but I was happy with the outcome.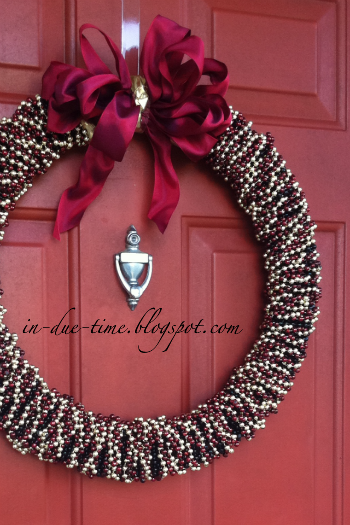 I thought about adding a few things to it, but I don't have time to do it right now. Maybe next year.
I'm on
Pinterest
if you want to follow me.