They say bad things happen in threes and it couldn't be more true this weekend.
First of all, I walked into my office and stepped into a puddle of water. In the carpet. And I'm on the second floor. Several hours
and phone calls
later, they found the leak and left me with this: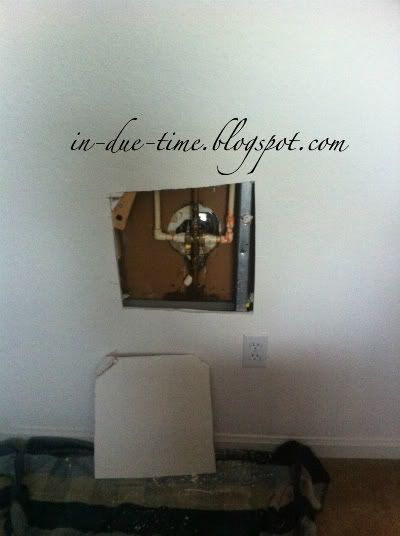 Of course, I called the office and asked when they were planning on coming back out to fix the fucking big ass hole in my office wall. (I may have used nicer words, but hopefully she got my point.) She replied with "I'm not sure? Sometime next week."
Thanks and FML.
If you're counting, that's only one. What are two and three?
Well, my washing machine and dryer both, at the same time, deciding they hate me too.
And guess what? That was at 10 pm. Only Lord knows how many days THIS shit will get resolved.
I can't lie, I am very, very pissed off about all of this. We pay so much money per month and they are slow to fix any fucking thing. The thought of moving in a year is enough to send me into a coma, but OMG this is bullshit.
I plan on speaking to someone about the folks that answer the phones, because I can't handle this.