Spring in FIorida is an amazing time of year. Things are blooming, fresh fruits and vegetables are hitting the store stands, the air is heating up. This past weekend, I noticed the grocery store had fresh corn on sale. Fresh roasted corn on the cob is simply delicious. We don't have a grill because we have a small deck and live in a townhouse. (Another reason I can't wait to move!) While I was shopping though, I passed a tabletop grill that was on clearance for five bucks! I threw it in the cart along with a bag of charcoal and a box of matches. Rednecking it out, y'all!
When I got home, I placed the bottom of the grill on our deck and lined it with foil. After the flames died down, I put the rack over top of it and waited a few minutes before getting the corn ready.
Up until that point, I had been sitting next to the back door to keep an eye out on the flames. Flames plus wooden deck, it's just a recipe for a disaster. Well, after putting the rack over it, I decided to sit on the couch for a few minutes until the coals turned white. Well, actually, I didn't just put a rack over it, I also put cardboard under it hoping it would, oh I don't know, act as a buffer for the heat under the pan.
I'll just stop this story right now and tell you that I am a dumbass. If NYEBoy had been paying me attention, he would have stopped me long ago. Alas, he was busy working and I wanted me some roasted-over-the-grill corn, damn it. Now, back to the story.
As I am sitting on the couch, I notice it start to smoke quite a bit. I headed outside to check on the coals and see what was going on with the smoke. Ahem. Uh. Apparently, I'm a dumbass. (I already mentioned that.) The cardboard was in near flames and had burnt clear down to the wooden deck. AWESOMESAUCE!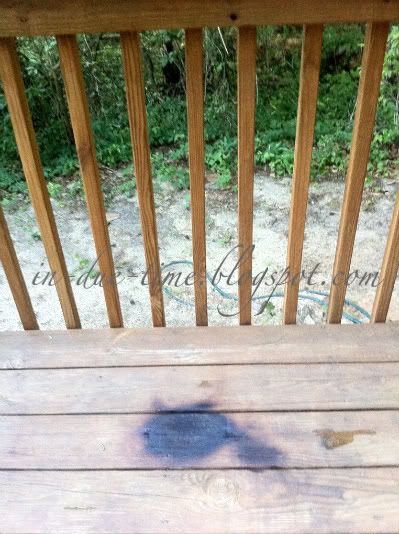 After pouring a gallon of water on the box, the deck, and into the grill I decided to stop there. I'd come close enough to burning down our townhouse.
Current Score: Grill-1 Me-0
Yesterday, on my day off, I started craving roasted-over-the-grill corn again. So, I grabbed the grill, relined it with foil again, and my gallon of water. I was going to make me some grilled corn, damn it.
After Sunday's incident, I realized there was a clip on the rack to hold the bottom pan up off of the ground in order to prevent
the deck and townhouse from burning down
an accident. This time, I used it.
I decided to grill some chicken for dinner and after that was done, I didn't think the fire was hot enough to heat the corn before NYEBoy got home so I decided to let the coals burn out.
After dinner, before I came upstairs to study, I went outside to check on the grill and the coals were still hot. I decided (Again, I'm a dumbass.) to pour some water on the coals to put them out, afterall, I did that yesterday! Except this time, I was leaning over the coals and inhaled a massive amount of coal "dust" that puffed up. I didn't choke or anything, but after about 20 minutes or so, my head started hurting really bad. It was around eight so I just went to bed. I woke up at 5 and 6 with a full blown migraine. I downed some Advil and I was still in lots of pain at 7 so I took some pain meds and went to bed.
New Score: Grill-2 Me-0
I'm hoping I'll be able to make up my Bio test that I missed, but I was so fucking sick there was no way I was going to be able to make it. Luckily, the pain meds kicked the headache and I was able to make my afternoon classes.
I think I'm going to leave the grill alone for awhile.
The grill's done got me.