The day after we got custody of A, I filed for her social security card. The day after I received it in the mail, I applied for insurance for her. I've been waiting for three months to hear back from them.
Before heading to school, children are required to have a physical and be up to date on their shots. Since K only took A to get one set of shots when she was ten months old, we new we had a long road ahead. Luckily, I was able to get her first set of shots in August. The poor kid had to have five shots, three in one arm, two in the other. We were due back for her second set around Thanksgiving.
Having waited three months to hear about A's insurance, but not having heard a thing, we decided to go ahead and pay out of pocket for her a physical. Despite the normal colds children pass around, she's been pretty healthy over the past few months. She's learning well at school, but I was still nervous about her hearing and vision test, especially since I have major issues with both.
Our girl is in the 95th for her weight and height. I believe the doctor's exact words were "There is no need to fatten this child up!" Her hearing and vision were fine as well. She got three shots this time, but since she knew how bad five shots hurt last time, I think she was more nervous about them this go around. She toughed it out, but there were tears shed. God willing, we go back in February for just one shot.
What hurt most wasn't having to see your child cry, but how much shit I got from the lack of vaccines she has received from the nurses. I was treated like a horrible parent/person until I explained, for the umpteenth time, that she is my niece and we just got temporary custody of her in August. I felt like a mama bear protesting her cub. I'm not a bad parent, back off! For the most part though, once you spell it out, they are usually nice to you and don't look down on you.
She's in the 95th percentile of children her age, but 100% the apple of our eyes. Love that kid. Speaking of, here's a picture of her before her Christmas party at school last week.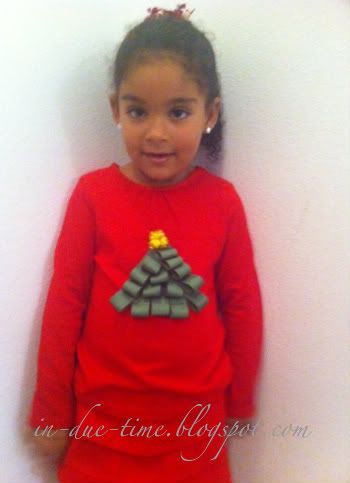 (Edit: I swear I need to write down what I want to say in my posts before beginning them, lately my brain is to fried to function. The irony is all of this? When we checked the mail this afternoon after getting A's shots, the denial for insurance was waiting for us. Tomorrow I have to go give them custody papers to get us back on track. Ugh.)