I didn't mean to go a week without a post. You see, last week, I was busy as hell with two tests to study and take and a project due worth about a fourth of my grade in one class.
I made a 100% on both of my tests, but I'm still waiting to hear about my graphics project. We had to create an image using IIIustrator. I'm going to be honest with you, we had about six weeks to do this, and up until a week before, I still hadn't settled on a design. I originally, if you
recall
, had wanted to do an infertility awareness poster of some sort. I had a idea of how I wanted to do it, and the message I wanted to get across, but I couldn't figure out how to do it in IIIustrator, so I decided to save that for our next graphics project, ph0toshop. I have the perfect idea.
Well, a week before it was due, I started to panic. Why was I waiting until the very end to do this? I'm never going to finish, and get a decent grade. And then the light bulb turned on. Remember my collection of
Monopoly games
?
So, I decided to do a Monopoly board, and hopefully make it look like a game was currently being played. Keep in mind, up until the first day of class, I have had no prior knowledge of how to create graphics from scratch, unless I used Microsoft Paint, and even then, it was limited, and self taught.
I put in between 15-20 hours over the course of six days, and this is what I came up with.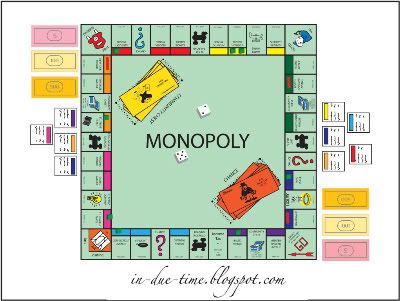 What do you think? I am in love with the end result. I hope I get an A on it, I was definitely in the top 3-5 of the class, if you heard the responses of the class. (We examined each one in class.) I even heard one student say "Okay! We can go home now." after seeing mine.
I'm proud of myself. I love school. So far, everything is going pretty good. I have a test coming up next week, but this week is pretty laid back, thankfully!
After dealing with all of that last week, I found out K and my dad were coming to down with a day or so notice. I'll let you know how that went tomorrow.
(Update: I got my grade in class. An A, baby!!! Wooo!!!)