Around 2 am Monday morning, I found out K was bonded from jail by my father. I ended up only getting about an hour of sleep because I was so wound up about everything that was going to go on.
We woke up at 6:30 am. As I was giving A a bath, I had to laugh out loud. Neither one of us were talking. We were both barely able to keep our eyes open. I got her dressed and ready for preschool. She went in just fine. I explained the situation to her teachers and the daycare director. I told them to call me if she got upset or anything. I called around 1 to check on her. She was fine.
We met at my lawyers office at 8:30 to discuss everything that happened over the weekend. We discussed some different options. When we arrived at court, my father, K, and the guy that helps my father do things, along with their lawyer were sitting in the hallway. My father was acting real smug, like he was some hot shit or something. Court? It couldn't have gone better. They tried to play stupid. They said K can't read. Funny, K can read. In fact, she read the papers to my father over the phone. And, I told her verbally she couldn't leave the county until the hearing. She damn well knew.
The Judge wasn't very happy with her. My lawyer tried to get her back in jail for contempt, but for now, she's out. Where? I'm not sure. No one has contacted me. I was granted temporary custody until our net hearing. The date hasn't been set yet, but it will be weeks, not months, away. Yay!! Now we can get health care for her and we know she's safe.
Best of all? Thugboy is 150% behind US. More about that later. But seriously? It brings tears to my eyes.
My first day of classes went well. I have one professor who looks like House. Ha! Another one is an asshole. (He's counting any absence against me, even if its pertaining to this custody situation which I emailed him about last week, even before the first day of classes. Apparently, after 4 absences, you're dropped. WTF? I have no clue how many hearings we're going to have in the next few months. This is bullshit.) My other professor is pretty cool, too. I have my 4th class today. Hopefully it goes good, too.
I couldn't have asked for a better Monday. Between court and the first day of school, we were all in bed asleep around 8 pm last night. I was falling asleep rocking A, so we ended up just crawling into bed and going to sleep together that way. NYEBoy was already asleep, too. Ha.
Thank you all for your support. For now, things have simmered down. I'm very glad of this. As much as it felt good to go to sleep stress free last night, I know K is probably facing the harsh reality of her actions from Saturday and that does hurt me. I'm hoping it's a wake up call instead of something to push her off the ledge further, but only time will tell. Thanks for keeping us in your thoughts and prayers. Please keep thinking about K. I hope she's guided to the right path.
Here's the sassy girl on her first day of school.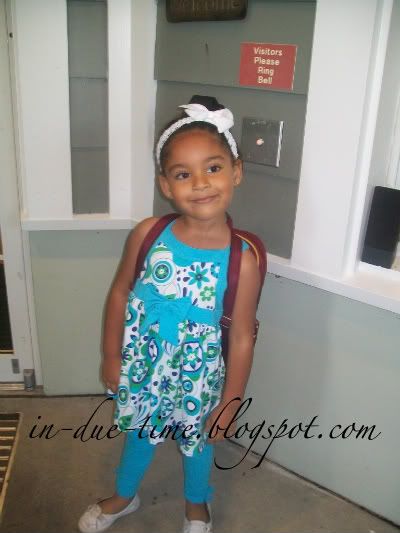 It's not the best picture, but her hair is in a pony tail. The thing behind her head is actually the fingerprint system to get into the building. It makes her head look funny. lol