Have you seen the show on MTV,
The Buried Life
?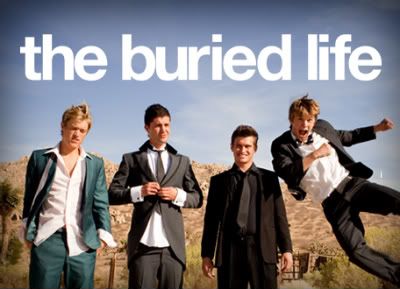 If you haven't, you're missing out on an amazing show. Duncan, Ben, Dave and Jonnie made a list of
100 things they want to do before they die
. They travel the country trying to mark off things on their list. As they mark things off on their list, they help a stranger mark something off their list. It never fails, every week, I end the show crying because of the things they have helped other people do.
On last night's episode, they took a man who had gone blind some years ago, to go ride a horse for the first time since he had gone blind. Seriously? Water works! On an episode a few weeks ago he took a girl from my hometown of M3mphis to see her mom's grave site after they were separated during Katrina. She died of an infection from being stranded. OMG. I couldn't stop crying. My heart was crushed that she hadn't been able to make it out to see her Mom being buried even though she had died several years ago.
The Buried Life is on MTV on Monday nights at 10 pm EST. If you're not able to catch it during that time, you can
watch the episodes online
.
Here's a list of 10 things I want to do before I die. I'm working on my list of 100. I'll add it to my blog when it's ready.
1. Become a Mom.
2. Have a successful business.
3. Surprise someone in need.
4. Go on a cruise.
5. Go to a theme park with my brother and sister.
6. Open a college fund for A.
7. Get a family portrait of us 'kids' and our parents.
8. Have a completely clean house with no chores left to be done.
9. Make a difference in some one's life.
10. Make amends with my parents (separately).
Which brings me to my Show & Tell discussion, what do
you
want to do before you
die
? Do you have a list?