I'm drained. I'm not sure if it's the strep, our trip to the beach, or not getting enough sleep last night, but I'm tapped out. Hopefully, I'll get some energy back tonight or tomorrow so I can get a decent post out. Until then, I'll hold you over with a picture and some exciting news.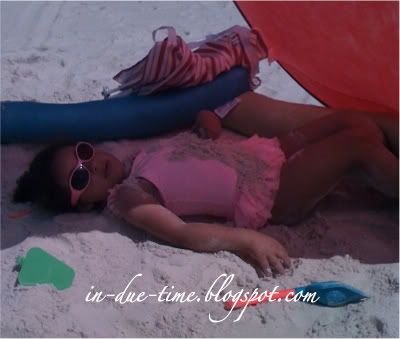 This is proof a Princess can and will get dirty. If they feel like it.
My exciting news? Well, it's exciting for me. After nearly 6 months, my period has arrived. I think. I hope. I saw red. I pulled out the box of tampons from the STORAGE CLOSET. A box from the stash of tampons I bought when A was just shy of 6 months old, 3 years ago. I hope it's around for longer than a day. involves more than one tampon and a cramp. For fuck sake, can't my body just be normal for once?