When I first started trying to get pregnant, I started buying things on clearance. Two years later, I sold most of it once I realized I wasn't going to get pregnant on my own anytime soon. I kept a few things in a bin, though. I haven't really allowed myself to buy anything since then. Although I do tend to go window shopping to day dream about the future sometimes.
A few weeks ago I saw a cute little pink doll with brown hair. I pictured our daughter drooling on it as a baby and toting it around as a toddler. But, I wouldn't let myself get it.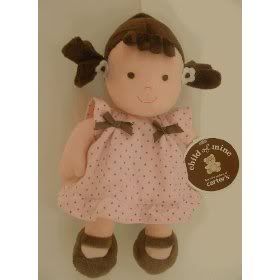 Until today, that is. She was on clearance for $3. I couldn't help myself. I picked her off the shelf and handed her to A. "This is for ..." I said. A's eyes got wide, her lips made a smile, "It looks just like her. She'll love it!" she said. I smiled and told her I hoped so.
Our future daughter's dolly is in the bin tonight, along with my hopes and dreams to be a Mom and the other cherished items I hope to one day use.