This week for Show & Tell I am going to show, tell, and ask you all about Holiday treats! I'll go first.
My dad's family (for the most part) are all living in or around Nash.ville. When we were younger, we would go visit them once every few years. One year we went up around Christmas. I am pretty sure it was there where I fell in love with Haystacks. We got a cookbook of my Grandmother's recipes one year and inside, was the recipe to those haystacks.
I loved that book. My father would never let us cook out of it or take the book to my mother's though. One day, I stole my book and have kept it on my bookshelf since. It wasn't his book. It was
my
book. He got his own copy.
Inside, mine is addressed to me and it says "Good recipes, wonderful memories, and lots of love. I love you, Granny."
I hope to make a trip up to visit that side of the family next summer. We'll see. It's been years since we've visited with them.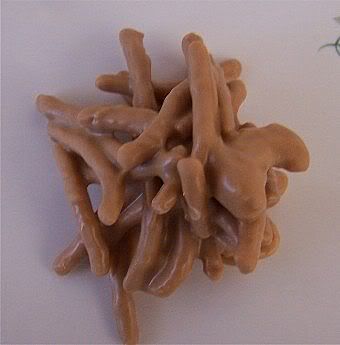 I'm lazy this week. I stole this picture off the internet, but, you get the idea!
Haystacks
2/3 c. Peanut Butter
12 oz. Butterscotch chips
3 oz. can chow mein noodles
1 c. chopped walnuts
3/4 c. marshmallows
In a double boiler, melt peanut butter and chips. Mix in noodles, nuts, and marshmallows until well coated. Drop by teaspoonfuls on wax paper. Place in refrigerator to set.
I also like to melt some white chocolate and drizzle it across the tops. They are so delish!
Now, here's your turn. What holiday treat can you not live without? I'm always on the look out for something new to
burn, screw up
make.