I hope you all had a happy Thanksgiving today. I woke up with a migraine, because why not? It started out as
one of those days
. The two turkeys I had thawing in the cooler overnight with ice water were still frozen despite being in the fridge for two days prior.
I was supposed to go visit
kristencmcd
for dinner, but an hour before I was supposed to be there, I still had 2 hours of cooking to do and I was still in my pajamas in need of a shower. I felt awful, but she still loves me. (I think.)
While I was in the middle of cooking, I heard an explosion. No worries, it was just the Pyrex that was holding my Paula Deen ham.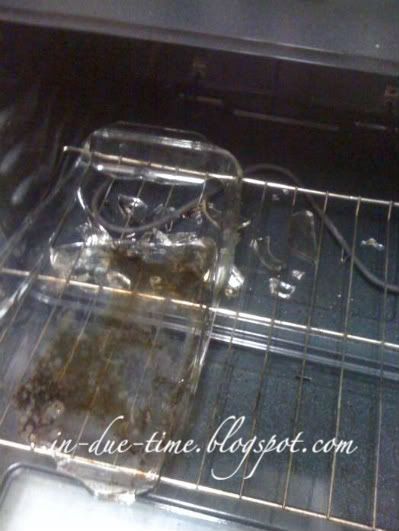 That's the second Pyrex piece I have bought in the last 6 months. Fucking ridiculous.
As I was getting the table ready for us to eat, the sweet potatoes caught fire in the oven. I was able to salvage them by knocking off the burnt marshmallows and trying again with another hand full. Then, as I was getting a plate from the cabinet, my elbow knocked the mashed potatoes into the floor.
After all that shit, we pulled the card table to the couch, two lawn chairs, and a step stool, raised our glasses, and said "Happy Thanksgiving"! It's a first for us, not the typical way we roll Thanksgiving style, but it is what it is this year.
For dessert we had chocolate fondue with pretzels, marshmallows, grapes, pineapples, brownies, and graham crackers. We have a pecan pie and vanilla ice cream that we never touched still waiting on us. I managed to forget the macaroni and cheese, corn, and something else, that I can't even remember now.
I'm exhausted, but everyone left the table happy and full. The turkey and dressing were moist and not burnt, I consider that alone a job well done, despite the bumps in the road along the way.