A has started to collect rocks over the past few months. As I have mentioned before, I used to collect rocks, but
mine were for sale
. A on the other hand, loves collecting rocks just for the fun of it. What is so fun about collecting rocks, you ask?
Well, first of all there is the thrill of the hunt, or maybe the steal. There isn't a landscape around that is safe from her paws. She must take a rock no matter where we are. Outback Steakhouse, Chill's, you're grandmother's yard, wherever. No where is safe, not even the garden of Good and Evil. You never know what kind of rock you will find either. There are big rocks, little rocks, boulders, white rocks, dirty rocks, and even faux lava rocks, too.
Then, if you're feeling a bit creative, you can color your rocks. Crayons and sharpies work best, please. After you have colored your rock, or left it plain, you get to name it. Naming them is fun. Stoney Boney-O, Rocky The Pet Rock, Ugly rock, whatever you prefer.
This is Rocky, The Pet Rock. Rocky, this is my blog.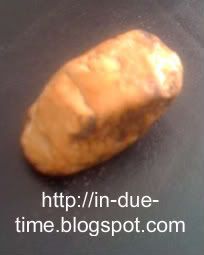 The best part about collecting rocks is leaving them on the floor and having the adults step on them. But be careful, it's a good way to get yelled at or put into time out.
Did you ever collect anything as a child? A has one other collection, but that's for another day.
Don't forget to see what the rest of the class is sharing.