I'm from Mem.phis, TN. The death place of Dr. King. It's still to this day, one of the most racially divided cities in America. Although I have been discriminated against before, I haven't really experienced anything crazy since moving to Talla.hassee. Until today, that is.
On Monday, I called the local health department trying to get an appointment for A to have something checked out. As Monday was coming to an end and no one had returned my call, I decided to call them again before they closed. The lady told me to leave another message and to expect a phone call as soon as they could get to it, because in her words, "we're pretty busy around here". Whatev. Tuesday, the same thing happened. Wednesday. Lather, rinse, repeat. Wednesday night, I spent two hours with Dr. Google, explaining her symptoms and looking for answers. Then, it hit me. The Answer.
I cried, for 30 minutes after seeing the answer. I felt like a Mommy* failure. #Fail. No, the results aren't life threatening. No, I didn't cause her to get this. No, it's not technically my fault, but it is. It's my fault for waiting so long to get help. It's my fault for not finding enough time in my day to be even more proactive about her birth certificate and social security card to turn into the state for insurance for her. Yes, I realize I am not her mother. Yes, I realize only the parents can get those pieces of information. Yes, I know I did what I could, but I could have done more. In my prior search for an answer to her ailment, I found a home remedy to try. Instead of making it better, I was actually making it worse. No, I didn't know any better. Yes, I was doing the best I could with the lack of knowledge.
After going to bed and crying into NYEBoy's arms until 3:30 this morning, I decided whatever it took, I was going to get her seen today. I called my father to tell him I would need him to put some money into my bank account to take her, but he wouldn't. He wanted the exact amount of the visit and prescription. And a receipt. With the answer in my head from Dr. Google, I called several pharmacies to get a BALL PARK estimate of what we were looking at. No one, and I mean no one, was helpful. It was about as frustrating as trying to get an appointment at the health department.
I called the health department after dropping The Crew off at school this morning. The same unhelpful bitch answered the phone. I told her I had to get my niece seen TO-DAY for The Answer. I reminded her I had called every single day, multiply times, this week to get an appointment. I asked if I could walk in to get seen? She said, and I quote, "Of course you can! Just come on in between ..." Of course I can? Really? You made me leave message after message for OF COURSE YOU CAN COME ON IN? *head explodes* Clean up on aisle 2.
After arriving at the health department twenty minutes early, I walked in, hopeful we would have The Answer confirmed. The guy asked me if I was a walk-in and I told him we were. He told me to have a seat, they would open in twenty minutes. I asked him if I could fill out paperwork since she was a new patient and I got a firm NO! Have a seat. We will call you when we are ready.
While we were waiting, several new patient walk-ins were handed paperwork to fill out, even though we were just told we had to wait. After waiting twenty minutes, they opened a line for walk-ins. This wasn't a first come, first serve type of deal. It was a fastest person in line, kind of thing. Once we made it through the line, a lady gave us a half a sheet of paper to fill out. I told her we were new patients and asked for paperwork. She told me to finish that first, then she would give it to me. So, I did. As soon as I handed that to her, she handed me the paperwork. After filling out six sheets of paper, I hand it back in to her. She asks if K works, I tell her no, because she was a student. She told me she wanted proof. Not only that, but she wanted to see a form showing what type of financial aid she received. Because, in her words, this was her income. Wow-ee! Hold up the train. K got $2500 in aid for $3600 in classes. Silly us, we should have used it for fun shit, not TUITION!
Luckily, the form was in her backpack which was in the car. When K returned, we stood there while the lady helped THREE other people before taking the form. Even though, two of them came in AFTER K got back from getting the form and the other the bitch CALLED while were standing there. I was fuming. Finally, she said we would be called back in a bit.
We were called back, eventually. We had already been there an hour and a half. The lady asked us what we were there for us, checked the issue, said it looked like what I had been doing was working, and to come back in two weeks FOR AN APPOINTMENT! I was stunned. Utterly stunned. Do what? No. Dr. Google told me she needed ORAL medication to treat this ailment, in addition to what I was already doing. I asked her to talk to the doctor about it. She came back a few minutes later to tell us the doctor "said" that she didn't need the oral medication BECAUSE SHE HAS XRAY VISION EYES AND SHE SAW THROUGH THE WALL. She just needed to come back for an APPOINTMENT.
I explained to the lady, I had been calling since Monday to get an appointment and this was unacceptable. I will not wait two more weeks to watch this child continue to get worse. I asked to speak to an office manager, but they don't have office managers and the supervisors were in an important meeting. She gave me their number. Before I walked out, I asked the lady to at least check her temperature because she was hot. A few second later, 103 popped on the screen. "Oh, I guess she's staying after all", the bitch exclaimed. She told me she thought she had felt hot when she was looking at the other issue, but didn't want to alarm me. WTF?
You know what's coming next, don't you? You don't? Oh, honey. A flu test. Not just a test, but a test this kid passed with flying colors. A mask was put on her and we were immediately escorted to another room. K has been sick, but we thought it wasn't anything bad. So, she got tested. Ding, ding, we have a winner. I had noticed I was feeling like shit, so I was given one too. Awe hell, a family that runs together, swines together. That's right folks. K, A, and I have SWINE mutha-fucking FLU! WOOT WOOT!
To add a cherry on top, not only did A have swine flu, but The Answer was confirmed. I was right, she did need oral medication. In fact, a month's worth. Twice a day to boot.
K told me after the tests were ran that two of the three of her teachers had swine flu and were out this week, along with about half the people in those classes. Grrrrr-EIGHT!
The irony in all of this is that I bought vitamin D milk the other day after hearing someone on the news tell us to load up on vitamin D to prevent getting the flu. Which was said right before "Half of the people watching this show will get the swine flu." Thanks for jinxing me, motherfucker.
Oh, for the record, I am calling the supervisor tomorrow. The only person in that office that was competent was the damn doctor. I shouldn't have to jump through hoops to see a physician. Since when is an MA certified enough to determine who is sick enough to be seen? I wanted to kiss her on the way out, with tongue, but I refrained. Maybe I'll go back tomorrow. It'll be all Michael Jackson and Lisa Marie Presley in the health department.
Want funny looks in the store? Walk around with this thing in the cart while talking on your cell phone and saying YES, WE HAVE SWINE FLU to your relatives as you pick up juice and Sprite at Publix.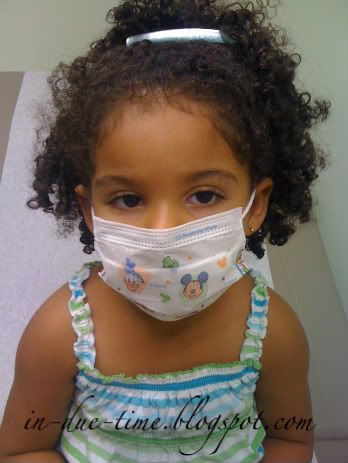 I told you to never leave home without your
custom mask
.