I was watching the Travel channel the other night when Food Paradise was on featuring all things deep fried. One of the stops included Sololak's Oringinal Country Inn in Snook, TX. What's so great about Sodolak's? Three words my friends: Deep. Fried. Bacon. Holy fucking clotted arteries Batman! I won't even mention that they serve it along side country white gravy. Oh fuck, I mentioned it. Oops! Someone call my cardiologist! Stat!
Being the resident fat ass at casa de In Due Time, I decided I had to try to make it myself, especially considering we've put a tad over 5,000+ miles on this car since the end of June and we're a good 810.42 miles away.
Not that I looked that up on Mapquest or anything...
After watching the special on television, I knew the first step was to dip the bacon in milk...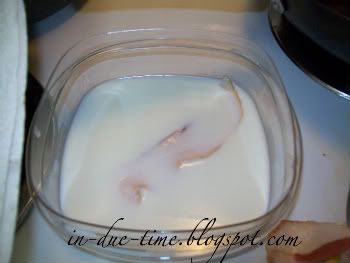 Then, you lay
the fucking delicious piece of meat
bacon onto a plate with self-rising flour mixed with a dash or two of pepper and seasoning salt. You know, because bacon isn't fucking good enough by itself, silly!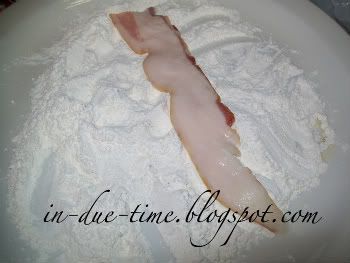 Flip that bad boy over; one side isn't good enough.
Drop the deliciousness into the hot grease. Once you notice it starting to curl and turn golden brown, flip it over until the other side is golden brown, too.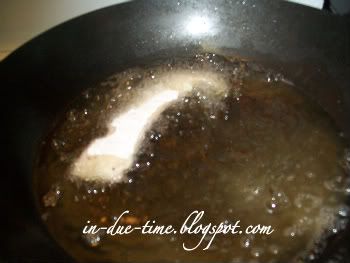 After removing the bacon from the grease, place it onto a napkin to remove any excess grease.
You know, because this is a totally healthy snack!
Eat swiftly. Others will come running once they smell the goodness.
Next up on my to-fry list are candy bars. I'll be sure to
be a fat ass
blog about that in the future.
Don't forget to see what the rest of the class is sharing!