A was beside me doing her "work" while I was attending to my neglected email box. I decided to see what was on Keith Olbermann since the
live feeds
were down while I got caught up, when out of no where A nonchalantly points to the television and says "That's our President!" After that, she went back to work. You know how busy those three year olds can be.
Of course, being one of the few liberals in a mostly Republican family, I grabbed the camera and asked her to repeat herself for a picture. You know, to send to the Republican grandparents.
This one is for you, Mr. McCain and Mrs. Palin.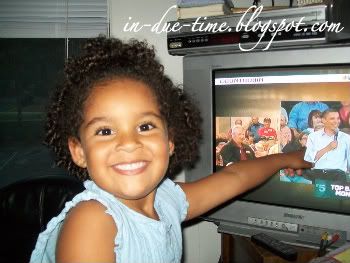 But really, this one is for you, President Obama.