I took the girls to
St. George Island
a few times while they were here. It was K's first time to the beach since we were kids. They had a blast. Sadly, the camera never made it out of the beach bag to photograph the fun time we had.
On the way out of St. George Island there is a tourist shop that we stopped at. While we were browsing the overpriced crap we could get back at any store in Florida, we came across a set up of hermit crabs.
As soon as I saw them, I knew I had to get a few. We ended up getting three of them. We named them Mean Ass, Turtle, and Moo Moo. Mean Ass was the biggest crab of the group and enjoys man-handling the others. We call him MA for short, because there
is
was a three year old living in the house. Turtle is named after the beautiful green and brown shell. Moo Moo was named after A. I couldn't think of another name while she was bothering me about what his name was.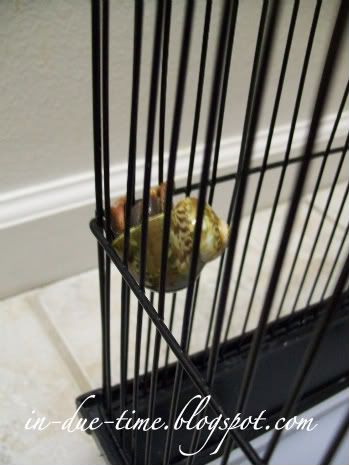 This is Turtle.

Unfortunately, Mean Ass killed Moo Moo in the a fit of rage in the middle of the night. Nothing like trying to explain to a three year old why the crab named after her is hanging out of his shell dead with three legs chopped off on the ground. I just told her that Jesus wanted his crab back to play with.
The best part is that NYEBoy wasn't with us, so I was able to come home yelling, "Honey, I have crabs!"