NYEBoy and I went to breakfast this morning at IHOP for a little nasty food. Hey, it was the only place open in this shitty town at 6 am. Towards the end of our meal, I heard the waitress telling the people behind us, "Hey Dad, here is a coupon for you to use on your next visit. Happy Father's Day"! You know the infertile in me rolled my eyes, just like I do with
Mother's Day
.
After we paid, I was standing up and grabbing my jacket to leave when I noticed the people behind us left the coupon on the table. So, I did like any self respecting infertile would do. I took it.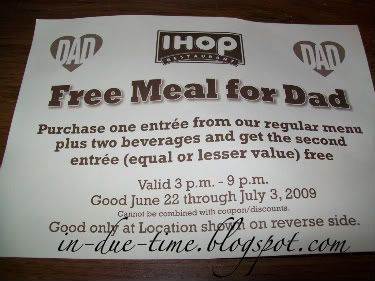 That's right folks, I took the coupon. I took for all of those men who have been there fighting with their spouses to overcome infertility to reach fatherhood. This is for you my friend.
Despite what some may think,
*cough*NYEBoy*cough*,
I'm not saying places shouldn't celebrate Mother's Day or Father's day, but what about us infertiles? Why can't we infertiles get a free meal, rose, or percent off on the Sunday of
National Infertility Awareness Week
?