A few weeks ago I showed you all my Mom's
birthday cake
I made for her 50th birthday. At first, I wasn't going to share anything for Mother's Day because we have such a rough relationship. However, I decided to send her a long email basically telling her no one knows how long we are going to be on this earth, but that she can't live the next 50 years feeling so negative about life as she has the first 50. Nothing says Happy Mother's Day like your daughter sending you an email telling you to get therapy and an anti-depressant.
My mother had something wrong with her thyroid a few years ago and now her eyes bulged a bit. I've been trying to get a family picture of all of us for years, but she won't because of her eyes. Here is one of the very few pictures of my mother I have that is semi-recent. It was taken in the summer of 2006. I think A was around two months old.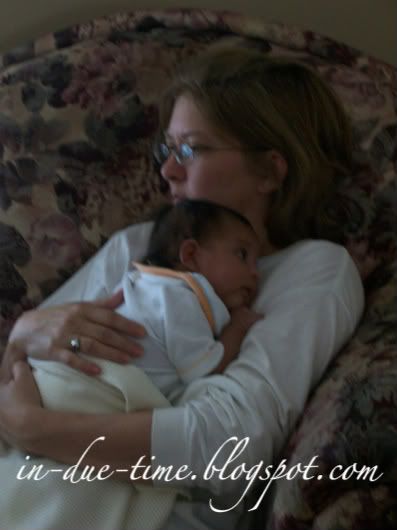 I love my Mom. This is only her
second
Mother's Day without all of her children. I'm in Florida again this year. My brother is in Utah. My sister is back in Mem.phis, though. I hope she has a good day today.
I hope you have a great Mother's Day, too.
I haven't decided how to spend mine. I want to wallow in self pity, but I have no one to comfort me. NYEBoy doesn't exactly understand how raw the emotions can be when it comes to infertility. So, I may as well ignore the pain.
Don't forget to go see what the rest of the class is sharing.