I logged onto crackbook today after talking with
K
, so I could see her son. When I logged on, as I rarely do, I noticed a friend request. It was my mom's friend from work. My mom talks about her all the time. She likes to try to compare us. Before I moved, she tried to get us to meet thinking we would like each other and want to hang out. Life got in the way and that never happened.
I decided to accept her request. Honestly, I rarely log in, so there is nothing incriminating. I called my mom to tell her I added M. She said that M tried to convince her she should get on crackbook because maybe she could learn somethings about me she didn't know. I laughed. I told my mom she wouldn't find anything incriminating on my crackbook page, but she might if she ever found my blog.
My mom said M called her over to her computer to look at my pictures I had uploaded. I uploaded a few of A, a few of me, and a few from when K and I went out in summer of 07. I was teasing K about remembering the good ole days. Then, they came to this picture.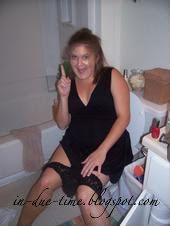 My mom wasn't shocked, but M got quiet. She said "Mmm. Hmmm. She actually, uh, looks, um, really cute like that. If I had that body, I would do that, too." My mom laughed.
By the way, this picture was taken completely sober, before we went out. Sweet!
In honor of
NIAW
, today's giveaway is inspired by my girl's nights out.
Custom beaded fancy drink earrings made by yours truly.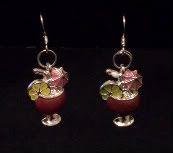 You will have two chances to win.
1. Leave a comment on this post.
2. Follow me on Twitter. Leave another comment comment you have added me. If you are already following me, just do the same.
This giveaway is open to anyone in the world. Comments must be left by 11:59 pm EST on Wednesday 4/29. Winners will be announced on May 4th.
Don't forget, there is a giveaway every day through May 2nd. Although it's too late to win the first
two
prizes, you can still enter to win
Monday's
until tonight, Tuesday May 28th 11:59pm EST.