Remember
this
?
I was checking out
Girl's Gone Child's
latest post about her Momversation
video
which was about judging (or not) young mothers.
I always said I wasn't going to be an old* mom like my
mother
. After all, she turned 25 two weeks after having her
first
child. Jesus, that's OLD! I wanted to be almost, if not completely, done having all four-to-six of my liter by the time I turned 25.
Then, I started trying. And trying. And trying. And trying. Reality soon hit me that I was infertile. Fast forward almost five years later, I am twenty-five years old and still childless. Unless some grand miracle happens, we won't be able to afford treatments until after he graduates grad school in about five years. By then, I'll be thirty years old. Holy shit.
Unlike
some
most women, my only
dream job
, career choice if you will,
was
is to be a Mom. I wanted to be the young mother.
While leaving a comment on Rebecca's blog, word verification decided to play wheel of fortune with me again. Except this time, the puzzle has been solved for me.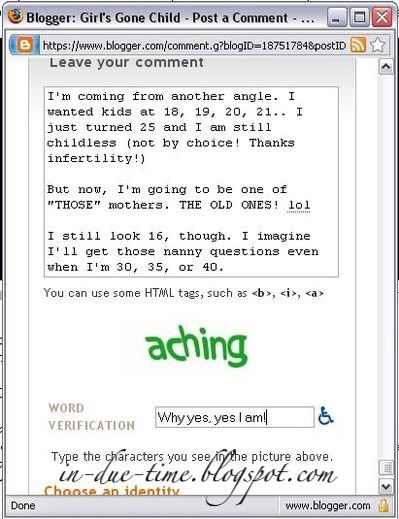 Yes, I am aching. Sometimes it's a sharp pain, other times it's more like a dull ache or throb. One way or another though, I'll make it to the finish line. I may be older than I had planned, but damn it, I'll get there. Even if I'm so old I have to change my diaper after I change my child's. I'll get there.
*I ♥ old moms. Don't take offense. I just wanted to be a young
er
mother.